Recently I was in a debate with two professing Christians who feels that
any
sinning is evidence of not being a Christian at all. They read Romans 6 but use a taxi-cab fallacy, and depart when they reach their destination. But they ignore Romans 7:13-25 and we sin because we are in the flesh.
I found it to be a difficult conversation because we have spoken of
false converts
in the past. I certainly don't feel that just because you sin that you are not saved. So I guess this post is to clarify things.
Maybe some of these Atheists felt the burden to be perfect and ran away discouraged. Christians aren't perfect, just perfected. Not better, just better off.
Morality keeps you from jail, blood of Jesus Christ keeps you from Hell.
There is a distinguishing difference between,
Justification
which is an instantaneous declaration from God of our legal standing before God that was entirely God's work that is fully accomplished now through Jesus Christ. (Romans 3:24,26-28, Romans 8:11, Philippians 3:9, 1 Corinthians 6:11.) KJV, of course.
and,
Sanctification
which is more of a internal condition that is a
process
through life where man cooperates with God that is yet to be fully accomplished.
It is a
process
by which God patiently, lovingly, and sovereignty convicts us of our sins, that we might turn from them, and be used of God.
Dr. Jerry F. Smith
said: "If we were sinless, we wouldn't be taught of sanctification in God's Word (1 Thessalonians 4:3-4; John 17:17; Ephesians 5:26; 1 Thessalonians 5:23; Romans 6:12; 1 John 1:8-10; 1 John 2:1; 1 John 3:2).
From these verses, we can see that God knows we will sin. And has given us His Word to sanctify us. Sanctification is a
process
: As the believer walks in the Word of God and repents and confesses his sins, he will become a more and more sanctified vessel unto honor. However, we will never reach sinless perfection (experimentally) until heaven, though we are seen through the blood of Christ by God as perfect in Him (positionally) - 2 Cor 5:21, et.al. God knows that we will sin, which is why He gave us the Words found in First John (above)"
Slick
said "The more sanctified we are, the more we care for others, the more we sacrifice for others, the more humble we are in our hearts, the more at peace we are with our lives, and the more we are like Christ in our character."
Claiming immediate Sanctification, without Justification, is an awful thought. That would devastate all of us since none of us would know if we are indeed saved until we die sinless. We are saved through Christ and strive to become perfect in Christ. Its not a light switch. Free choices are not eliminated in Justification.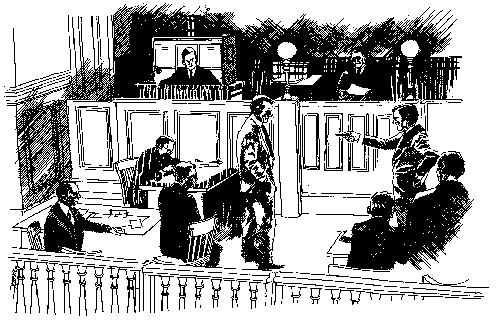 Because of the work of Christ, and our connection to Him by faith, we have the right standing before God, and are declared blameless in God's sight. This is great comfort to the believer, because it means we will not have to face the wrath of God on the day of judgment. We are secure in Christ, and safe in Him.
Albertus Pieters in his book, Divine Lord and Savior, tells of a believer who was not well-educated, but who had a deep assurance of his salvation. Everyone called him, "Old Pete." One day, while talking with Dr. Pieters, he said, "If God should take me to the very mouth of Hell, and say to me, 'In you go, Pete; here's where you belong,' I would say to Him, 'That's true, Lord, I do belong there. But if you make me go to Hell, Your dear Son, Jesus Christ, must go with me! He and I are now one, and we cannot be separated anymore.'"
Amen!
(click for clearer picture)
UPDATE: If the "body of Christ" is already sinless through the Holy Spirit then there is NO NEED FOR CHRIST, but only the Holy Spirit. Get it? We are JUSTIFIED in Christ. He PAID the price for our sinning, in full.
The professing Christians (two of them) have since blocked all communication as to not allow the truth to be heard and in my opinion they are no different then Michael Moore and his manipulation of truth, and facts, to make his viewpoint be heard. Shame on you both for running from the truth. They attempt to cause stumbling blocks for believers in their teachings and for that they should be ashamed. (1 Corinthians 8:13, 1 Peter 2:8, Romans 14, 1 Timothy 4:12, Romans 14:12, 1 Corinthians 8:9)
bit.ly/JustandSanct