Rufus
asked me "Dan, what is the most evil thing that has happened in your life?"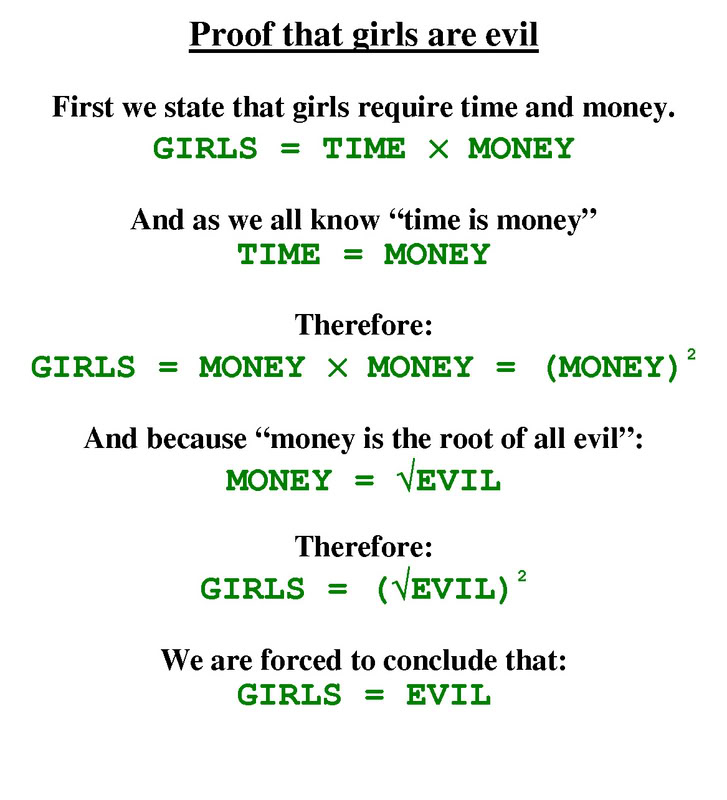 At first, because of Eve, I was thinking that maybe it was women...har har. But women are the single greatest thing that happened to us. A world with just a bunch of dudes? Yuck!
I thought it might have been that excited 16 year old that just got his license and was proudly driving home on our block when he ran over me and broke my leg. I was 8 years old, I ran into the street playing tag with my friends and I hit his door and slid right under the car. He didn't mean to do it, and neither did I. It kept me away from team sports though. Who knows, I could be on steroids playing for the majors these days otherwise. Plus, because of that, I took up swimming instead. I got real good and became a rescue swimmer and subsequently a life guard. I cannot justify that as evil.
I thought maybe it was being raised an Atheist that was evil. But, I could not justify it to be so because it is what helped me explore God and indirectly prepared me to become a Christian.
I thought it might be my Mom coming down with Lupus and having a major stroke when I was just 10 years old. It put me into a very bad position and made it difficult to think about school stuff, and I rebelled against everything and everyone. "My mom was sick, after all" was my motto or more accurately, my excuse. But was that even evil to me personally? I certainly do not think God is doing "evil things" to me, so that does not qualify as being evil.
Then I came up with what I thought was the answer. My older brother has cerebral palsy, and I had to wipe his butt all the way up until I was 12! I hated that job! I hated how he laughed at me when I was gagging and almost puking while I had to deal with him. He got a kick out of watching me suffer. The real kicker was that the whole time he could have done it himself. You see, my parents coddled him and made me help him; when I refused one day, he just did it himself. He was able to do it the entire time, and then subsequently learned how to do other things for himself. At the time though, that was the most evil thing that happened to me. However, it taught all of us a good lesson to empower people instead of enabling. Also, that helped me become the care-giving person that I am today. I teach my kids with that lesson in mind to empower them with the tools to do things themselves...to let them struggle, fail, and learn. I have my brother and parents to thank for that lesson and in turn, my core belief.
I remember in the Navy, I didn't say anything when my friend handed a new guy on the ship these sea sick pills because he was complaining about how sick he was. The thing is, they were not sea sick pills, they were
laxatives
! I remember laughing uncontrollably when the poor guy came up to us, very concerned, wondering why water was coming out of his butt. He dehydrated a great deal and was quite ill because of that.
My actions were unforgivable. I should have helped him and been a better friend.
I remember punishing myself with copious amounts of alcohol, and other things, in my teen years because I was so unhappy with myself, my actions, and my situation. I hated me. I should of died many times and sometimes I wished I had.
Once I became a Christian, I realized how wicked I really was. It was only then that I realized how much of a lying thief, a blasphemous adulterer, and a hate filled wretch that I had become. It was humbling. It took some time to come to terms with that reality and eventually, I understood why. I gave all my flaws to Jesus Christ our Lord to help me eradicate them. In time they will be eternally gone.
After some reflection on this very introspective question all I can come up with is one thing. To answer your question, what is the most evil thing that has happened in my life?
It was me, being me. I was the most evil thing that happened in my life. I was the bad tree that was bearing bad fruit. Thank the Lord that is being changed. Keep watering that good tree Lord.
Good question though. I am curious as to how most of you would answer that question.
Edit: Ray Comfort has an analogy: "A little girl was once watching a sheep eat grass and thought how white it looked against the green background. But when it began to snow she thought, "That sheep now looks dirty against the white snow!" It was the same sheep, but with a different background. When we compare ourselves to man's standard we look pretty clean, but when we compare ourselves to the pure snow-white righteousness of God's standard—His Law, we can see ourselves in truth, that we are unclean in His sight. That Law is the holy standard by which humanity will be judged on Judgment Day."